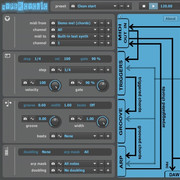 mucoder has updated hypercyclic, a free MIDI arpeggiator plug-in for Windows, Mac and Linux.
hypercyclic is an LFO-driven MIDI arpeggiator, gate effect and step sequencer for mangling sustained MIDI input chords, the output of which can then drive other MIDI instruments.
Changes in hypercyclic v1.1.367
Fixed: slow UI loading time on OS X 10.6 Snow Leopard.
Fixed: groove timing has improved.
Fixed: MIDI song pointer follow has been improved in standalone version.
New: standalone version now accepts MIDI sync messages.
New: uses new test synth with PADsynth algorithm.
New: LFO waveform is now displayed.
hypercyclic is available to download at no cost.
More information: mucoder / hypercyclic