Mune has announced it will soon launch a Kickstarter campaign for its Mune, a wireless digital instrument designed to make your interactions with sound expressive and visible to an audience while performing.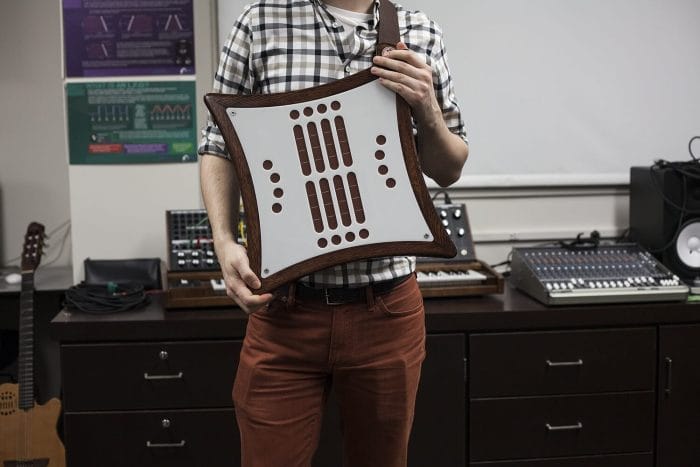 The Mune is a new electronic music instrument. It combines the functionality of a MIDI controller (used by DJs and producers) with the expressiveness and simplicity of an acoustic instrument.

Unlike a traditional DJ controller, the Mune can be held by the performer to face the audience, allowing the audience to view the musician's interactions with sound. The built-in wireless technology allows the musician to step far away from the glow of their laptop.

The Mune offers an expanding variety of "apps" that run on a laptop and connect to the Mune. The Mune also includes an expansion port to allow the connection of future onboard sound processing modules. Like any MIDI controller, it can be used to control virtually any audio software, like Ableton Live, Reason, Logic and Max.
Mune features
Wireless — Untether yourself from your computer. 6 hour battery life. 50 meter Bluetooth range.
Audience Visibility — Allow your audience to see and understand your interactions with sound. Show the world that there is more to electronic music performance than "pushing play".
Countless Sounds and Ways to Play — Apps allow the Mune to have a neverending stream of new sounds and modes to play: Sequence beats, play melodies and chords, control effects, DJ. The Mune's design allows it to be played in many different positions.
Incredibly Easy to Use — Electronic music should be accessible to everyone. No technical or musical training is required to get great sounds out of the Mune.
Expressive — 24 ergonomically placed, high-quality touch sensors and an accelerometer allow for many parameters to be independently controlled at one time. Designed to be as expressive as an acoustic instrument.
Compatible With Your Music Software — The Mune can control any software that supports MIDI – which is almost all music software! Play your current setup in a fresh new way.
Dynamic Backlighting — 84 LEDs provide an elegant display to accompany your performance.
Open Source — A modern instrument should live up to modern standards of openness, collaboration and continuous innovation. The Mune's software is open-source – continuously evolving and changing.
Future: New Touch Panels — The Mune hardware is built to be as flexible as its software. It's hardware interface allows completely new control panels to be designed and connected.
The Kickstarter campaign for Mune launches on August 15th, 2016.
More information: Mune