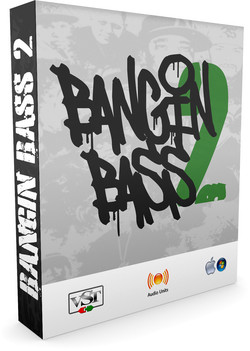 Music Weapons has announced Bangin Bass 2, a virtual instrument with bass sounds that suit hip-hop and urban style of music.
Instead of just using what is available and "making it work" every patch in bb2 is instantly usable. The all new library in Bangin Bass 2 is 3 TIMES LARGER than the original and has superior sound quality due to our double precision audio engine. In addition to the much larger library each patch actually has multiple velocities meaning you will get a different tone depending on how hard you play bb2.

We also have incorporated our TOUCHSCREEN COMPATIBILITY from Drum Weapons 3 giving you the ability to play the plugin like an instrument directly on your monitor or tablet. We also have added more on screen gui controls to further tailor each patch to your needs.

Hundreds upon hundreds of amazing bass patches ranging from dirty custom electric and acoustic basses, legendary analog basses dripping with character, chest pounding subs, insane crazy next generation synth basses, dubstep style bass, tons of 8oh8 patches. Each patch has been meticulously created and tailored to take your urban productions to another level. So what are you waiting for, add some bangin bass to your arsenal now!
Bangin Bass 2 features
All new library 3X the size of the original.
Extremely High Quality Audiophile grade sound quality from double precision audio engine.
Touchscreen Compatibility from Drum Weapons 3.
Multiple Velocities per patch, the tone changes depending on how hard you play.
Extensive onscreen gui editing options to tailor each patch to your needs.
Compatible with any program that runs VSTi or AU plugins on PC or MAC.
Bangin Bass 2 is available for purchase for $74.99 USD.
More information: Music Weapons / Bangin Bass 2