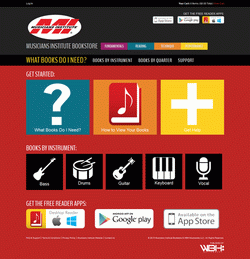 Musicians Institute, in partnership with WBH MusicWorks, has released an all-digital curriculum for 2015.
Consisting of over 60 digital publications, this curriculum will be used by all students in the Certificate, Associate of Arts and Bachelor of Music Degree offerings within the School of Performance Studies. This includes Vocals, Guitar, Keyboard Technology, Bass and Drums at the Hollywood campus of MI, as well as at their international campuses.
According to Donny Gruendler, Vice President of Academic Affairs for Musicians Institute, "This initiative marks the first fully-fledged curricular redesign in the College's history and we are happy to have partnered with WBH during this process. Their e-book platform enabled us to create a media-rich mobile hybrid learning environment—to help our students learn more efficiently both inside and outside the classroom. Combined with our faculty and state-of-the-art facilities, we are providing our students with the best educational resources currently available."

MI's digital book series consists of reading, technique, and performance tracks for all five instruments, plus sight-reading and harmony/theory books to be used by all students. All of the courses have been completely updated and modernized by MI, with each book written by a top educator/artist on each instrument, including many top New York and L.A. recording, touring and theater artists. Students access the books by installing an MI Bookstore app available in the iOS App Store and Google Play store, or via www.musiciansinstitutebookstore.com. Once purchased, the books are downloaded onto the user's device, and can be reinstalled and updated by the user by simply signing into their account.

These digital books utilize current technology that provides color images and embedded audio and video for a complete educational experience. The digital format will allow the books to be continually updated with new content, which can be downloaded at no extra charge once a book is purchased.
More information: Musicians Institute / Musicians Institute Bookstore