MusicLab has released version 5.0 of its RealGuitar Classic and Steel String virtual guitar instruments for Windows and Mac.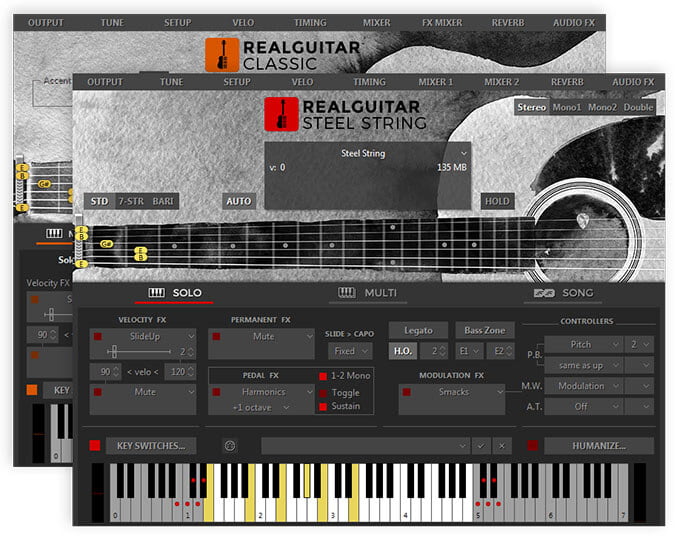 RealGuitar Classic includes all of the original guitar models with loads of new playability features. It is fully backward compatible with RealGuitar 4. RealGuitar Steel String features a new Steel String guitar sample set with five patches and three tuning selections for each.
Changes in RealGuitar 5.0
New steel string guitar sample set

New high quality 24-bit stereo samples.
6-string, 7-string, Baritone guitar tunings.
12-string Standard and Baritone guitars.
14-string Standard guitar.
Nashville Tuning for Standard and Baritone guitars.
Authentic, deep velocity response with controllable Buzz and Slap noises.
Up to 30 different samples for repeated notes.
Stereo, Mono, and Double output options.
Stop Slap, Stop Strum sound FX.
Palm Mute sound with tightness control.

New multi performance mode

Combining various guitar techniques (strumming, soloing, string picking, etc.) in a single performance layout.
25 new Key Switch FX in chordal modes.
Velocity controllable number of strings in strummed chords.
Live control of solo and strum techniques.
Live control of chord inversions/positions.
Free voices leading in strummed chords.
Hammer-Ons and Pull-Offs in chords.
Slider (Bottleneck) guitar technique emulation.
Numerous performance options, effects, and their combinations.

New usability features

Advanced Velocity Curve control.
Hi quality Reverb FX.
Internal Loop in Song mode.
Use of DAW MIDI track to edit and play Pattern track.
Streamlined user interface for RealGuitar Steel String.
RealGuitar 5.0 (VST/AU/AAX/Standalone) is available for $199 USD. The upgrade price for previous version owners is $59 USD. A full-featured trial version can be downloaded as well.
More information: MusicLab / RealGuitar