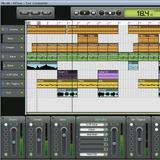 Mutools has announced the release of MU.LAB 3, an alternative, hi-quality music application for Mac OSX and Windows, transforming your computer into a complete music studio.
MU.LAB does not overwhelm you with a complex feature set, in which you can get lost.

On the contrary, MU.LAB is a user-friendly yet rock-solid musical tool designed to create, finetune and play Your Music!
Changes in MU.LAB 3
Function shortcuts: Map a key or MIDI event to almost any function
Step Recorder
Integrated virtual MIDI keyboard
Super comfortable editor zooming & scrolling
Finetuned mouse tools
Composition Sub Tracks
Compressor Module
MIDI Clock Out
"Open Recent"
Relative audio file paths -> easy to move sessions to another system
Line tool for velocity beams
Improved sequence loop system
Improved modular system
Comfortable library system
Support for recording multiple event sources at once
Logical Event Selector
Improved VST plug-in editors
Finetuned ASIO and VST engines
Many user comfort add-ons and workflow enhancements
Windows: Supports stereo MME output so no need to install ASIO4ALL first
MU.LAB is available in three versions: MU.LAB FREE (free of charge), MU.LAB XT (25 EUR) and MU.LAB UL (75 EUR).
More information: Mutools