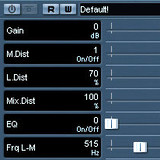 MZK Media Technologies has released Distortion M Plus, a free multiband distortion plug-in for Windows.
It goes from the standard distortion to the multiband distortion, giving you the advantage to apply different amount of distortion by frequency zones, allowing you to expand your creativity.

The Distortion M Plus plug-in works also as an EQ section alone, and it can be used as a dual-stage effect, by combining the standard and multiband distortion altogether. Offering you the possibility to create complex harmonics.
Distortion M Plus features
Standard Distortion.
EQ Section.
Multiband Distortion.
Dual-Stage Distortion.
Distortion M Plus is available to download as a freeware VST effect plug-in for Windows PC.
More information: MZK Media Technologies / Distortion M Plus