n-Track Software has announced the release of n-Track Studio 9 for Android, the latest version of the complete multitrack recording app.
The update features a redesigned GUI, new audio effects and integration with the Songtree online music community.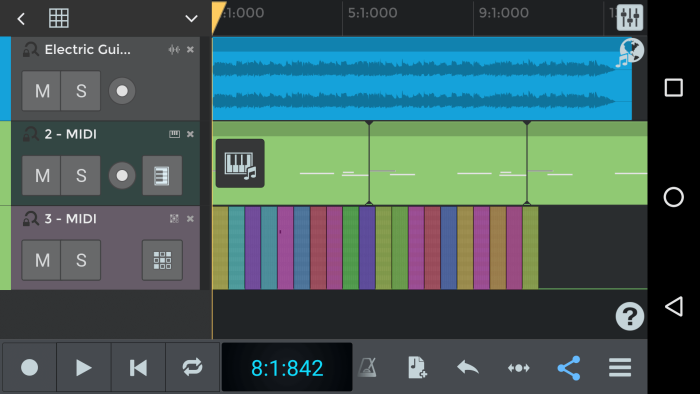 n-Track Studio for Android is an audio and MIDI multitrack recorder that turns your device into a full-fledged recording studio.

Record and playback a virtually unlimited number of tracks, mix them during playback and add effects. Create MIDI tracks using the built-in General MIDI synth. Edit, cut, copy and paste, zoom and drag MIDI and audio parts
Changes in n-Track Studio v9.0
New Guitar amp plugin.
New Bass amp plugin.
New VocalTune vocal pitch correction plugin.
3D spectrum view in EQ window.
Stereo image view in EQ window.
Redesigned user interface.
Echo depth can now be set as division of the song tempo.
Screen drumkit for playing percussive instruments with your fingers.
Export at high quality (24 and 32 bits).
Step Sequencer to create beats, melodies and arpeggions with just a few taps.
Advanced Routing, record/bounce any track, group or AU/interapp instrument to an audio track.
Songtree integration, make music online with a community of talented musicians.
Improved MIDI and Audio editing with new MIDI step recording feature, or draw your audio clip fade in/out curves.
Instrument browser to instantly add instruments to your project.
n-Track Studio 9 for Android is available for $29.99 USD. Monthly subscriptions are available for $0.99 USD/month (Standard) or $1.99 USD/month (Pro).
More information: n-Track Software