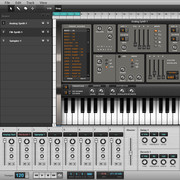 Naive Solutions has launched a public beta of AudioSauna, an online audio workstation.
Audiosauna.com is an online audio workstation providing all the tools and instruments for making ideas into music.
AudioSauna features
Great Filters – All instruments are packed with quality high-pass and low-pass filters.
Instrument Effects – All instruments have chorus, distortion and bitrate effects integrated to the devices.
Jam With Computer's Keyboard – Use your computer's keyboard to play and record melodies with Audiosauna.
Aux Effects – For balanced sound, mix some reverb to each channel. The Aux effects lets you do just that!
Well-thought Presets – Pads, basses, organs, leads… The Audiosauna's synthesizers are packed with great sounding presets.
Channel Mixer – Pan, effect, solo and mute tracks with Audiosauna's intuitive channel mixer.resets.
The AudioSauna public beta is now available to try.
More information: AudioSauna