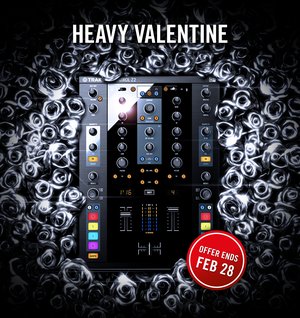 Native Instruments has launched a limited-time February special on TRAKTOR KONTROL Z2, the highly acclaimed 2+2 channel DJ control mixer that unites analog and digital DJing techniques.
Featuring two standalone channels each with Remix Deck controls, and an integrated 24-bit audio interface, TRAKTOR KONTROL Z2 is the perfect pro-mixer for TRAKTOR DJs. Rear panel inputs provide connectivity for both turntables and CDJs, offering connectivity for purely analog as well as timecode-based setups. With a robust aircraft-grade aluminum enclosure, the Z2 is equipped with top-notch knobs and buttons, multi-colored cue point controls, and advanced Innofaders™ for durable, tactile mixing. TRAKTOR PRO 2's Macro FX and Flux Mode are also directly accessible from the Z2's dedicated buttons. An integrated USB hub even allows connectivity for multiple TRAKTOR KONTROL F1 and X1 controllers with plug-and-play simplicity.

TRAKTOR KONTROL Z2 includes the latest version of the flagship TRAKTOR PRO 2 software. Trusted by countless professionals, TRAKTOR PRO 2 offers DJs up to four virtual decks, intuitive looping and cueing functionality, and a wide range of over 30 effects. In addition, integrated Remix Decks technology allows DJs to instantly record, loop and sample audio for on-the-fly remixing. For DJs who combine the flexibility of digital DJing with classic analog systems, the Z2 also comes with TRAKTOR SCRATCH PRO 2* timecode vinyl and CDs.
TRAKTOR KONTROL Z2 is available to purchase for $599 USD/599 EUR/£499 GBP until February 28, 2014 (regular $799 USD/799 EUR/£679 GBP).
TRAKTOR PRO 2 and TRAKTOR SCRATCH PRO 2 software are provided as a download following registration of the TRAKTOR KONTROL Z2 mixer.
More information: Native Instruments / TRAKTOR KONTROL Z2