Native Instruments has announced the Infinite Possibilites limited-time offer on its seminal REAKTOR 5 software.
The special marks the release of the updated REAKTOR User Library – a community-powered platform for sharing and distributing REAKTOR-based instruments and devices, now with brand-new video tutorials.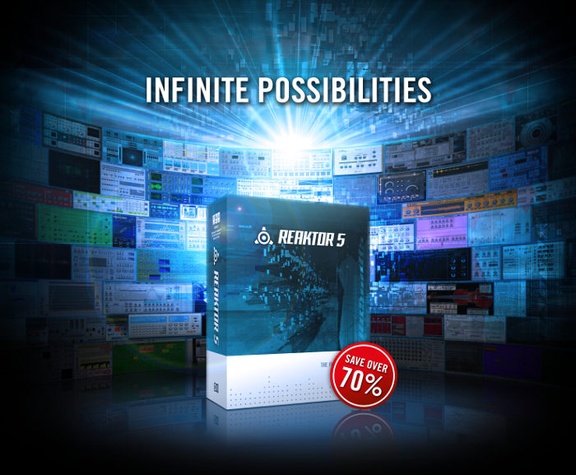 From synthesizers and sound generators, to sequencers and effects, REAKTOR 5 brings a universe of sonic possibilities to life within a powerful programming environment. Over 70 indispensable instruments and effects ranging from classic synthesis and sample techniques, to exotic delay-line resonance, modal, or granular synthesis all come ready for use, or customizable to taste. And for builders and programmers, REAKTOR 5 provides a limitless environment for creating new instruments, effects, and other devices from scratch.

REAKTOR 5 also opens the door to more than 3,800 unique user-made devices through a vibrant community based around the REAKTOR User Library. Reconstructed and updated for optimized navigation, the new User Library offers enhanced searching and sorting for improved device browsing, and a fresh new look.

New additions to the REAKTOR User Library now include videos and tutorials from Bluewater VST and ADSR. Detroit house and techno icon Mike Huckaby also contributes tutorials along with a section dedicated to his favorite devices from the User Library.
REAKTOR 5 is available at the NI Online Shop for $99 USD / 99 EUR / £89 GBP until May 28th, 2014 (regular $399 USD / 399 EUR / £339 GBP).
More information: Native Instruments / Reaktor