Native Instruments releases Paradise Rinse, a new Maschine expansion pack giving producers the broad range of emotive sounds heard in contemporary UK bass styles.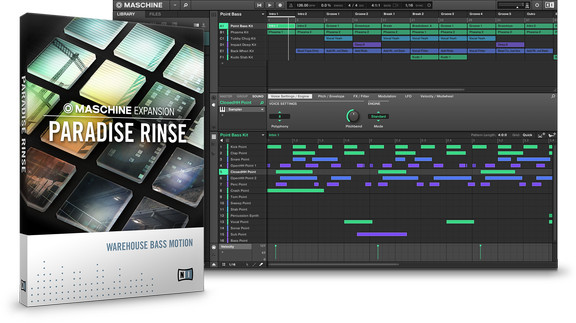 PARADISE RINSE features sounds that reflect the influence of bass music on today's UK music culture. Melodic elements are featured heavily, including soulful sampled vocals and catchy organ and synth stabs.

Complementing the sample set are exclusive new presets for MASSIVE, adding additional melodic content and the ability to tweak sounds in real time while producing and performing. New presets for the MASCHINE 2 Drum Synths are also included in PARADISE RINSE, providing producers ready-to-go percussion sounds that can also serve as starting points for their own sound design sessions.

The sounds are inspired by the UK music scene that grew out of 90s deep house, garage, jungle, and more. The music played on pirate radio and in warehouses around the country gave birth to UK bass – a sound now heard in the charts and across many styles of contemporary dance music.

A condensed version of PARADISE RINSE is also available as an iMASCHINE Expansion, for creating beats on-the-go. The iMASCHINE Expansion features three projects, four drum kits, and three instruments. Tracks can be exported to MASCHINE STUDIO, MASCHINE, and MASCHINE MIKRO for completion.
Paradise Rinse for Maschine 2 is available for purchase for $49 USD/49 EUR/£44 GBP. The iMaschine expansion is $0.99 USD/0.89 EUR/£0.69 GBP.
More information: Native Instruments / Paradise Rinse