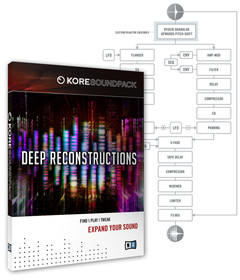 Native Instruments has released Deep Reconstructions, a new SoundPack which turns Kore 2 or Kore Player into a powerful and innovative effects unit.
Perfectly complementing DEEP TRANSFORMATIONS, this pack contains even more complex and cutting-edge effects chains. Based on KORE's internal engines and exclusively created REAKTOR ensembles, DEEP RECONSTRUCTIONS handles like a musical instrument and lets you tweak sounds in real-time and repeat, freeze and sequence your signal into ever-evolving poly-rhythms.
Deep Reconstructions features
150 KoreSounds with a total of 1,200 distinct Sound Variations.
Intense and unconventional effects — morph able multi-effect sounds built using the REAKTOR, ABSYNTH and GUITAR RIG engines, enabling you to re-arrange beats and melodies on the fly via time-based multi FX.
Created by composer, producer and sound designer Denis Goekdag (Surround SFX).
Deep Reconstructions is available for download from the NI online shop for $79 USD / 69 EUR.
Visit Native Instruments for more information and audio demos.