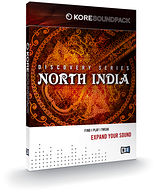 Native Instruments has released North India, a new KORE SoundPack capturing the sound of North India.
Establishing the new regional-themed "Discovery Series" of KORE SOUNDPACKS, this new sound collection for KORE 2 or KORE PLAYER journeys to North India to draw on the rich and varied musical heritage of Hindustani classical music.

Packed with 3GB of beautifully sampled classical instruments as well some contemporary realizations, this Soundpack is perfect for creating authentic classical performances and for adding North Indian textures to film scores, urban, pop or electronic productions.
North India features
30 KoreSounds (10 acoustic sounds, 10 contemporary sounds, 10 synthetic drones).
Includes the following classical instruments:

Bansuri – The bansuri flute is a transverse bamboo flute with open holes. It is used both in classical and lighter styles of North Indian music.
Harmonium – The Indian harmonium is a small hand-pumped reed organ equipped with drone stops. It is mainly used to accompany singers and solo table performances.
Shehnai – The Shehnai is a reed instrument and is mostly used in traditional folk music.
Sitar – The sitar is a complex instrument equipped with melody, accompaniment and resonance strings. It is the main melody instrument in North Indian classical music but is also used in many other styles in India.
Tabla – The tabla is a set of two miniature kettle drums played by hand. It is the main percussion instrument of North India and used in a variety of styles.
Tanpura – The Tanpura is an unfretted lute with four strings. It is solely used as an accompanying drone instrument.
North India: Discovery Series is available for download from the Native Instruments Online Shop for $79 USD / 69 EUR.
Visit Native Instruments for more information, video tutorials and audio demos.