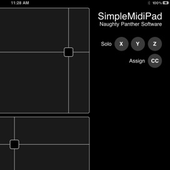 Naughty Panther has released SimpleMidiPad, a MIDI app for iOS.
SimpleMidiPad is an easy-to-use MIDI CC source for driving software or hardware synths and effects, and remote control of a DAW. Each of the four pads sends X, Y, and Z MIDI control messages, with user-selectable destination addresses.

Note that SimpleMidiPad makes no sound of its own. It requires either a CoreMidi-compatible USB MIDI adaptor (via the Camera Connection Kit) or an OS X computer running the Network MIDI interface for WiFi usage.
SimpleMidiPad is available to purchase for $1.99 USD.
Visit SimpleMidiPad for more information.