Groove3 has added four new courses to the Josh Bess Webinar Series.
Now, a total of 10 courses in the format of live-recorded webinars are available, covering various music production topics with expert and Ableton Certified Trainer Josh Bess.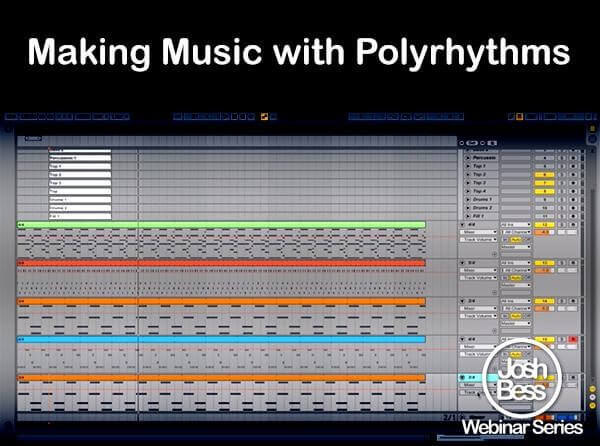 In this series, Josh takes you into his home studio in Tokyo, Japan, and invites you to watch his video streaming webinar series.

Each tutorial includes a recording of a live-streamed video lesson including a Q&A session with the participants. This is a new form of instruction as viewers participate with questions that Josh answers within the session, so each webinar has an intimate feel to it as if you are attending a private lesson with the expert.
New Josh Bess Webinar Series courses at Groove3
Making Music with Polyrhythms — In this course, Josh Bess explains how to create new musical ideas with the use of polyrhythmic rhythms. Although these ideas can sound mathematical at first, Josh demonstrates how to simplify them to incorporate new and useful techniques into your music creation process.
Incorporating Real Drums into Electronic Music — Josh explains how to incorporate real drums into your electronic music, along with techniques to add natural feel and movement to your music creation and workflow. Josh demonstrates how to separate drum sounds recorded with a single microphone, how to warp multiple clips simultaneously, and other helpful techniques to apply to your own music creation.
Setting Up Ableton Live for DJing — Watching Josh's personal live-DJ performance setup in Ableton Live, you'll learn how to set up, perform, and incorporate your music and style into a live-club event.
Turning a Loop into a Full Song — Josh Bess opens up his own personal live session in Ableton Live to explain how to turn a small and simple idea into a full music arrangement, ready for live performance and/or an official release. Josh discusses many ways to get you started with building your ideas, along with other tips and tricks to incorporate into your own original music creation, no matter what style of music.
The courses are now available at Groove3 with the All Access Pass for $15 USD/month.
More information: Groove3 / Josh Bess Webinar Series