New Sonic Arts has released updated versions of Vice and Granite.
Vice is an inspiring and powerful loop sampler.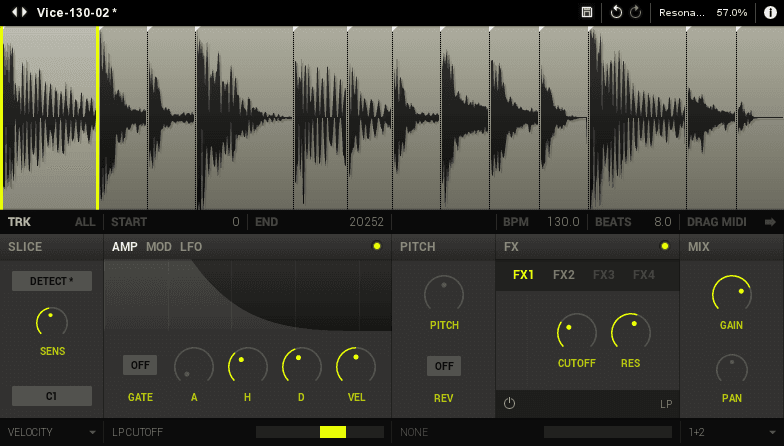 Quickly load loops from the integrated loop browser, slice them in an instant with the intelligent transient detection algorithm and effortlessly export your grooves to your DAW via MIDI drag and drop.

Want to get deeper? Then delve into Vice's comprehensive FX and modulation capabilities, including 4 x FX inserts per-slice, plus seamless DAW integration thanks to the 8 x multiple outputs and comprehensive MIDI and host-automation assignment features.
Changes in Vice v1.3101
Waveform: Added twin-channel or left/right selection for stereo samples.
Enhanced browser skin, new icons.
Loop start / end sample values shown in loop trimming mode.
New look Setup and dialogs.
Fixed crashes occurring during export samples.
Fixed some visual bugs with playhead or incorrect sample end value.
Granite is a granular sampler instrument that allows you to create evolving textures, haunting atmospheres and infinite soundscapes.
Granite's unique sound engine melds a state-of-the-art granular processor, an innovative modulation system and a suite of grain-level FX, resulting in a degree of musicality not achieved before with granular synthesis.

The compact user interface takes full advantage of hardware graphics acceleration for a uniquely absorbing audio-visual experience, and the slick and intuitive workflow makes working with Granite's powerful engine a breeze.
Changes in Granite v1.5811
Waveform: Added channel selector and stereo view option for stereo files.
Enhanced browser skin and icons.
New look Setup and activation dialogs.
The latest installers for Windows and Mac (VST/AU) are now available for registered New Sonic Arts users.
Vice, Granite and the Nuance sampler instrument are now all available at a discount in a Black Friday Special, priced at 59 EUR each (regular 99 EUR).
Ok ok, you asked and we gave in… So here it is, our Black Friday deal: Granite, Nuance and Vice all at just 59 EUR each. Thats 40% off. Happy now?
The sale ends November 25th, 2016.
More information: New Sonic Arts