Nils Schneider has released a rompler instrument that emulates the Kawai K1 synthesizer, a famous Japanese classic from 1988.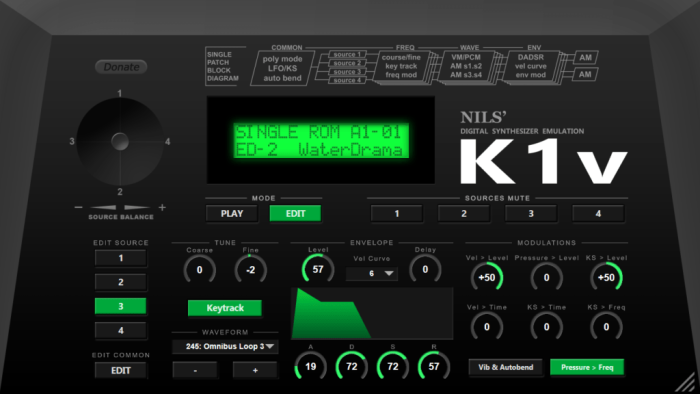 Nils' K1v features an 8-bit synthesis engine with 4 sources per voice, and a fully fledged MIDI implementation.
The K1 is one of Kawai's most economic digital synthesizers in the K-series. The K1 has 256 digital samples of waveforms, 50 of which are from acoustic instruments. You combine up to four wave shapes to create very new and unique sounds. The K1 is capable of very good acoustic recreation, excellent unique synth sounds or at times, completely noisy walls of complex sound.
Nils' K1v features
Very accurate emulation of all parameters.
Includes 768 presets with search capability, the original factory bank + all ROM cards.
Full editing support.
Can import SysEx presets & banks from the original device.
Can export SysEx presets & banks, giving the ability to use the plugin as an editor for the hardware.
32-bit and 64-bit support.
Resize-able User Interface.
Full automation support.
All 768 presets can be edited and are stored as part of a project.
The plugin is a free download in 32- and 64-bit VST formats for Windows.
More information: Nils Schneider