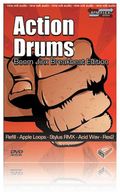 Nine Volt Audio has released Action Drums: Boom Jinx Breakbeat Edition, a modular loop library that combines acoustic and electronic drums.
Convey movement, excitement and power in your music. Whether you're capturing the energy of an action sequence, the exhilaration of a sporting event, the high-style artistry of fashion, or the elemental momentum of dance, Action Drums can provide the inspiration and the foundation for all your composing needs.
Action Drums features
Nearly 600 loops in the REX2, Stylus RMX, Reason ReFill, Apple Loop and ACIDized Wav formats (100% copyright free loops).
Organized into 60 "Beat Suites". Each Beat Suite contains a full-mix beat, a full-mix beat without the kick, a full-mix beat without the snare, percussion/hi-hat mix and a loop for each individual instrument from the full-mix. Individual folders containing solo loops of kicks, kick 4xs, snares, hi-hats, percussion, hi-hat/percussion mixes and tonal fx have also been created for quick and unique beat creation from the ground up.
Apple Loops have been tagged for quick and easy loop identification.
Includes 30 Stylus RMX multi presets produced by Stylus RMX Core Library beat creator Hans Scheffler. The presets utilize Action Drum loops exclusively, providing an additional 30 unique beats.
Suggested tempos have been given to each suite, but as part of the BPM Flex Series™, every loop can be used at virtually any tempo while retaining their feel and groove (not applicable to the wav files).
Action Drums is available on DVD or via download for $79.99 USD.
Visit Nine Volt Audio for more information and audio demos.