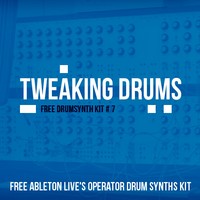 Noise Is King has released DarkBerg, a free drumsynth Kit for the Operator instrument in Ableton Live.
This week we have another FREE Kit for your tweaking pleasure, and its called DarkBerg.

We have 2 very nice hi-hats/maracas/noisythings that can be tweaked in very creative ways. There is also a really "realistic" snare , kind of a jazzy snare, but with all the possibilities of it being synthetic. The cymbal is really cool too , a spacy vocal type of splash that will fit perfectly in your next techno track ;-)
The sound pack is a free "Pay With A Social Post" download.
Visit Noise Is King for more information.