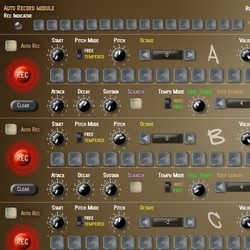 Noisebud has released version 2.5 of CatchDad, a free VST instrument plug-in for live performances.
With CatchDad you can catch 4 different sounds with just the click of a button and instantly start to program rhythms with the built in step sequencers. The plugin is capable of building advanced rhythmic patterns with the different sequencer speed settings.

It's basic functionality is pretty straightforward, you'll be droppin' beats within 20 minutes. Just send any sound, live or prerecorded through the plugin, press Record and you're on your way!
Changes in CatchDad v2.5
Shuffle.
Adjustable sequencer length (you can now create true isorhythmic patterns).
Added a 'Free' tempo mode.
Pitch return to default pitch when you double click the Pitch knob.
You can now adjust the length of the autorec function.
Added a 'remove old versions' function in the installer.
CatchDad for Windows (VST) is available to download as freeware.