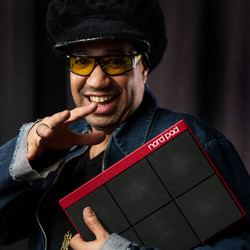 Nord has launched the Marque Gilmore Bank, an expressive sound bank for the Nord Drum 2.
The innovative drummer/percussionist/producer and composer Marque Gilmore has put toghether a signature bank for the Nord Drum 2. Marque has been working globally as a professional musician for nearly 25 years and has a long experience combining the best of the acoustic and electronic world of percussion, as well as being a pioneer in combining and uniting musical expressions from all over the world.

The Marque Gilmore Bank contains 23 kits and can be downloaded here, where you'll also find some really brilliant sound demos showcasing the expressive, dynamic range of the Nord Drum 2!
The bank is a free download.
More information: Nord / Marque Gilmore Bank