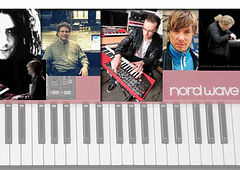 Nord has announced the Nord Wave Super Sounds, a collection of sound banks for the Nord Wave synthesizer.
We hand picked some of the planet's best synthesizer sound programmers to create their individual – and ultimate – Nord Wave sound banks. And we sure got some awesome sounds to share with you. The mission was to bring out the big, bad synthesizer in the Nord Wave, and to exploit its unique sonic character to the limit.

The banks reflect the musical heritage and sound preferences of each and every programmer with plenty of personality. Look e.g. for vintage and skyscraper huge sounds in the US bank, modern characters that cuts through the everyday mush in the progressive Canadian and Italian banks, and a unique mix of Belgian-French haute couture from our friend Xavier Tribolet in the French bank.

The German bank is as efficient as the country's rail- and highway system and the Dutch entry will make you think of tulips, the bestest of beer and excellent craftsmanship. The Future Music UK bank was conceived as a special project with the magazine. No less than three entire programming teams were set to work on a mission, which will blow your mind.
The Nord Wave sound banks are available as a free download.
Visit Nord for more information.