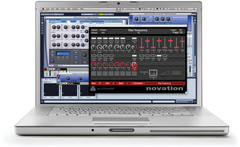 Novation has released version 3.4 of AutoMap, a MIDI control application for PC and Mac.
Automap v3.4 brings with it dozens of new mappings for plug-ins and instruments, and also carries firmware updates for Novation keyboards and controllers.

When developing Automap v3.4, Novation focussed on expanding Automap's on-board library of mappings (collections of assignments that tie knobs, faders and buttons of Novation hardware to software parameters) for Logic, Reason and Pro Tools. To achieve this, the mappings system was fully rebuild to allow thousands of new mappings across the Novation product range.

Now, Logic, Reason and Pro Tools are fully mapped (although Logic's Sculpture and Ultrabeat have inherent limitations). This means all plug-ins and software instruments that ship with the applications now have bespoke Automap mappings, so you can get immediate, hands-on access to the most sensible parameters in your plug-ins and music software. Your music-creation workflow just got much more efficient!

Another big part of the v3.4 revision is the inclusion of firmware updates for Novation's Remote SL, Zero SL, SL Compact, SL MkII and Nocturn Keyboard. These updates transfer through the Automap user interface, with helpful on-screen directions guiding users through the updating process.
Changes in AutoMap v3.4
Updated firmware and global for Remote SL, Remote Zero SL, SL Compact, SL MkII, Zero SL MkII and Nocturn Keyboard.
Improved default mappings for Reason/Record.
Improved default mappings for Pro Tools.
Improved default mappings for Logic 9.
Added default for Novation and Focusrite's plug-ins.
Updated DAW Setup Guide.
Added options to restore 'OS, Global and Automap template', 'Automap template only' and 'All Templates' separately in the Devices menu for SL MkII and Zero MkII.