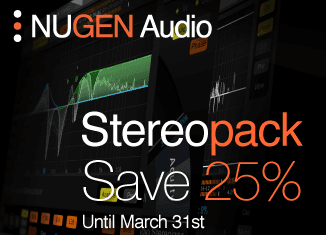 NUGEN Audio has announced a sale on its Stereopack plugins, offering a 25% discount for a limited time only.
NUGEN Audio is offering 25% off Stereopack, which includes three plug-ins for stereo enhancement and control:
Stereoizer — A stereo widening plug-in with a clear difference: Your mix will still sound great in mono.
Monofilter — Mono Space for your Bass. Anchor the power of your bass for the tightest mix.
Stereoplacer — 21st Century Pan control. Precise stereo-positioning that takes you beyond the traditional mix setup.
The Stereopack bundle and all 3 individual plug-ins are 25% off until March 31st, 2016. A free 3 week demo is available.
More information: NUGEN Audio / Stereopack plugins