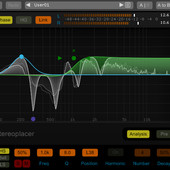 NuGen Audio has released updates for the plug-ins included in the Stereopack, suite of a stereo enhancement, focusing and restoration plug-ins.
Monofilter, Stereoizer and Stereoplacer have all been updated to include RTAS and Audiosuite mono-to-stereo versions of the plug-ins. A mouse-click issue has also been resolved in the AU when used with Bias Peak.
Stereopack 2 features
Stereoizer

– Developed for and tested by professional audio engineers, Stereoizer adds natural sounding width and enhancement to any audio recording, mono or stereo, leaving the inherent character of the original source intact. Quite simply Stereoizer makes your audio more coherent, highly polished and spatially balanced without adding artificial reverberation, chorusing or delay.

Monofilter

– Used and trusted by producers the world over, MONOFILTER grabs hold of your bass and secures it solidly within your mix. Intuitive controls allow you to quickly anchor the power, whilst retaining the essential character and perceived spatial characteristics.

Stereoplacer

– The pan control has come of age. Now you can adjust the stereo balance where you want to. Gone are the days when making an improvement in one area causes problems with another – choose the frequencies you want to fix and move them, leaving the rest of the stereo image intact.
Stereopack 2 is available to purchase for PC and Mac (VST/AU/RTAS) priced at $199 USD.
More information: NuGen Audio