NYRV Systems has announced the release of NYRV AGENT, a new sub-host and virtual control surface for Windows and Mac.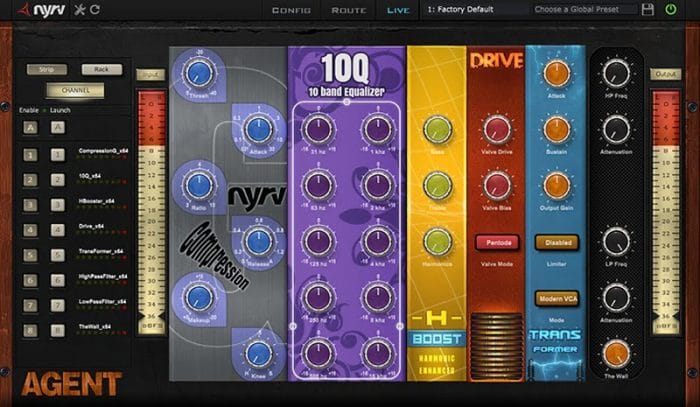 NYRV AGENT is NYRV Systems first product offering and is designed to become the central element of your effects processes. AGENT is fundamentally a configurable virtual control surface for effects. With AGENT you gain control of your entire effects chain in a single interface.

AGENT has a Channel Strip page and an Effects Rack page. They are essentially identical but we designed them to work together the way a rack of outboard effects would interact with a large format console channel strip.

AGENT provides you the canvas where you create a custom workspace and workflow. You now have the ability to configure each channel strip with up to 16 plugins and 96 parameter controls. The result is a working environment that let's you focus on the sound instead of trying to find the individual controls that affect it.
NYRV AGENT features
Hosts up to 16 VST or AU effects plugins per instance.
Internal Routing.
Highly customizable controls.
Multiple Skins.
Configurable Input/Output Meters.
Individual Slot meters for every plugin.
Cross Platform Presets

Page Configuration Presets.
Global Configuration Presets.
Default Parameter Presets.

Runs in Most Major DAWs.
Ultra-Low Latency.
Multi-Layer Graphical interface.
Load your own custom graphics.
Midi Mapping
12 High Quality Audio Devices

3Q – Musical high/mid/low EQ for sculpting.
10Q – 10 Band graphic EQ with +/- 18db.
FilterQ –High Pass and Low Pass Filters with Resonance boost.
HP-2 – High Pass Filter with variable attenuation.
LP-2 – Low Pass Filter with variable attenuation.
Red – Channel Saturation Module.
Compression G – Buss and Track Compressor.
Transformer – Transient Shaper.
Protector – 1 knob Limiting.
Drive – Creative tube driver effect.
H-Boost – Harmonic Enhancer.
dSr – De-Esser.
The AGENT software + NYRV Devices Bundle is available for purchase for a launch special price of $149.99 USD (regular $249.99 and $99.99 USD).
More information: NYRV Systems