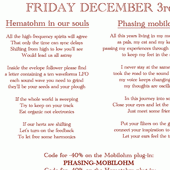 Ohm Force has announced a limited time Christmas promotion for its products.
Well, Christmas will arrive soon, and the end of this year is also getting closer. Our hearts become more tender and our thoughts more reflexive. We all would want to be able to spend more time with our friends, and with our passions, and… talking about that, our loyal studios – temples of our inspiration and expression – surely deserve an upgrade to start 2011 with the right foot, don't they?

For only two or three coins from your holed pocket, you'll be able to grab some new – and competent! – swords and splinters for your ever evolving skills on sound sculpting and sonic battleship. How would you be able to fight for love, otherwise?

We're talking about this year's Christmas promo, that will offer a pair of -40% discounted plug-ins each December's friday! This Friday 3rd December we'll start with the Mobilohm and the Hematohm. Next week there'll be another discounted pair, and so on, until the Friday 24th December, when we'll celebrate the holiday with a discounted ALL-ALL Bundle!
The discounted plug-in pairs will be announced at least two days before each Friday.
This Friday (December 3, 2010) there is a 40% discount on Hematohm and Mobilohm, available by using the promo codes below at checkout.
40% off Mobilohm: PHASING-MOBILOHM
40% off Hematohm: HEMATOHM-IN-OUR-SOULS
40% off both plug-ins: MOBILOHM-HEMATOHM-NEED
Ohm Force has also announced a new Cohmpetition:
this time, and for the first time, a poetry one! Yes, musicians are artists first of all, and we know that you can touch your audience's emotions either with notes or words! Get inspired by the poems we'll post starting from tomorrow and write your own ohm-inspired poetry. The best 3 poems will grab Ohm Force bundles.
More information: Ohm Force