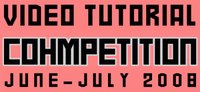 Ohm Force has launched a video tutorial contest.
From the Ohm Force blog:
We all know everybody is able to read all the PDF manuals, learn all the technical details and become an Ohm Force Ninja. But the true is: reading manuals sucks. Wouldn't be cool if we all could learn about Ohm Force plug-ins from people who already master them? Wouldn't be nice to learn more about all the Ohm Force plug-ins you haven't tried yet, learn some secret and unique tricks about the plug-ins you already use and – even better – share with other musicians all the tricks and uses you've discovered by yourself? Oh yeah, it would be great.
This is where you come in. Ohm Force is looking for people who will do some cool tutorial videos in the following categories:
PLUGIN OVERVIEW, show what the plugin(s) is/are for, what they can do in general, their most important features, etc.
TRICKS AND THREATS, reach an audience wich is already used to the plugin, to learn them a specific individual trick or possibility of use.
So what's in it for you? Everyone who submits a tutorial video will receive 2 free Ohm Force plug-ins of their choice.
And since it's a contest there will be prizes for the winners as well: ALL-ALL Bundle, containing Ohm Force's whole collection of plug-ins.
A winner will be chosen in each category by both the audience (most commented tutorials) and the guys at Ohm Force, so 4 winners in total.
Check the video tutorial cohmpetition post for more information.