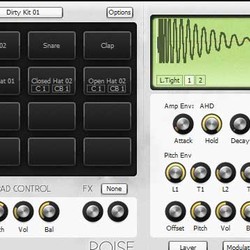 One Small Clue has updated its Poise percussion sampler instrument for Windows to version 1.50.50.
Poise features 16 drum pads, which can each use 8 samples. Sample layers have parameters for pitch, volume and balance, as well as amplitude and pitch envelopes. There are several sample switching types including random, velocity and round-robin.

A browser allows samples to be previewed and loaded via drag and drop. (Drag and drop works from several sources including windows explorer and some host applications.) Samples can also be copied/moved from pad to pad with drag and drop.
Changes in Poise v1.50.50
Bug Fixed: Sample points don't update when they move via midi learn.
Bug Fixed: AIF files should now load correctly on 64-bit builds. Previously AIF files would only load on 32-bit builds.
Bug Fixed: Using hotkeys to change drum kits wouldn't work correctly in Reaper. The drum kit loading dialog would pop up whenever a drum kit would change. The dialog would steal the keyboard focus from Poise. The focus wasn't returned to Poise after the loading dialog closed. The problem has been fixed by making the loading dialog show inside the Poise GUI window.
Change: Audio Preview code has been updated to use the same sample loading code as the main audio engine. This should fix problems with some samples loading on the drum pads but not previewing.
[1.1.50.48] Change: Poise will now show a message when samples can't be loaded.
[1.1.50.48] Some fixes to the new audio file loading code that was introduced in the last update.
Poise is available to purchase as a VST instrument plug-in for Windows, priced at $49 USD.
More information: One Small Clue / Poise