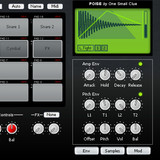 One Small Clue has released version 1.0.11 of Poise, a percussion sampler instrument for Windows.
Direct, straightforward, no frills and no bloat! Poise aims to make working with drum samples quick and painless, allowing you to focus on making music.
Changes in Poise v1.0.11
Added an ADSR envelope.
New: Added a Pad Link option. A drum pad will be trigged when it's linked pad triggers.
New: Support added for midi note names. (Midi note will show the name of the drum pad.)
Improvement: Made changes to the Amplitude envelope drawing process to improve envelope visibility.
Improvement: Phase flipped samples are now drawn correctly. They were being drawn identically to non flipped samples.
Bug Fix: The Poise GUI was consuming excess CPU cycles when the browser was visible.
Bug Fix: Midi learn menu wasn't responding to mouse clicks.
Bug Fix: Poise wasn't opening files correctly. In some situations this could lead to a crash. (Files were being opened with share mode set for exclusive use.)
Bug Fix: The GUI was using excess CPU when covered by another window. (The Choke and Output numeric controls weren't updated correctly).
Poise is available to purchase as a VST instrument plug-in for Windows PC, priced at $49 USD.
More information: One Small Clue