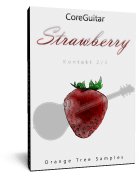 Orange Tree Samples has released CoreGuitar: Strawberry, a guitar sample library which aims to provide you with versatility in terms of tone and articulations.
CoreGuitar: Strawberry has many features which set it apart from other electric guitar sample libraries. Many never-before sampled nuances have been captured, allowing CoreGuitar: Strawberry to attain new heights in realism. While these details are subtle, they all contribute to the perceived realism of the library. Also, when adding distortion to CoreGuitar: Strawberry, these details are greatly magnified.
CoreGuitar: Strawberry features
1.57 GB of 24-bit samples.
2x intelligent round-robin sample cycling for both downstroke and upstroke articulations.
Variable pre-pick noises.
Whammy bar effects.
String resonation.
Dynamic vibrato.
Custom slides.
Intelligent legato.
Alternate tunings.
CoreGuitar: Strawberry is available now for an introductory price of $119.95 USD (normally $129.95 USD). Note: Due to the extensive scripting, this sound library is available in Kontakt 2-3 format only.
Visit Orange Tree Samples for more information and audio demos.