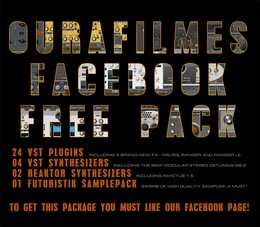 Ourafilmes has announced its Facebook Pack, a free collection of VST plugins, Reaktor ensembles, and samples by Dr. Speaker Blower.
To celebrate the start of our facebook page (finally!), we launched an exclusive pack with 19 VST effects, 4 VST synthesizers, Phat Waves (Reaktor synth), the last version of Invictus 1 – version 1.5 (until now an exclusive of the Native Instruments Reaktor Library) and a new and exclusive samplepack by Dr. Speaker Blower!

Even better news for you! Each time our facebook page hits 1000 likes, there will be a new free pack with more VST plugins and Reaktor stuff (see PDF for details)! Note that this pack has exclusive creations in both VST (32 bit PC) and Reaktor 5 (PC/MAC) formats and the VSTs were tested on Win XP only. Reaktor synthesizers work fine in both PC and Mac.
Facebook Pack features
3 new effects: M/S EQ, Ranger and Ranger LE.
Bonus VST effects: Space Verb, Mad Dog Filter, Distorted Flanger, SB-1 FX, SB-2 FX, SB-3 FX, The Ring, Master, Spitfire D-Lay, Phase Distortion (beta), CoP Tape Delay, Stereo to Mono, Tuga Bass Bus, Tuga Distortion, Tuga Eq and Tuga HPF.
4 VST synthesizers: Lusus 2.0 (alternative version for playing live), Rufius CoP (until now an exclusive synth for a portuguese forum), the bassliner SB-1 and Dr. Speaker Blower's biggest and most complex synth, SB-2.
Reaktor synths: Phat Waves (mainly used to create samples for samplers to layer with other bass sounds) and the last update of Invictus 1 (v 1.5).
Also includes a huge and exclusive futuristik samplepack by Dr. Speaker Blower with new 24 bit WAV fresh sounds.
The Facebook Pack is available to download for Ourafilms Facebook fans.
More information: Ourafilmes