Ourafilmes is celebrating its 20th anniversary with the release of a free tape emuation audio effect plugin by Dr. Speaker Blower.
Diabolique emulates two vintage tube reel to reels, a Revox F36 from 1962 and a Tandberg Model 3 from 1958.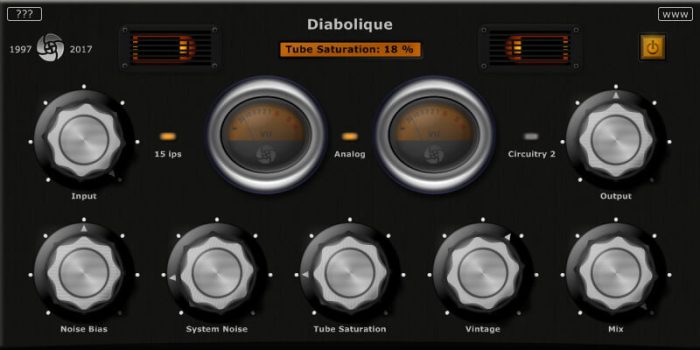 Apart from their differences, here the question is maintenance: while the Revox has been kept in immaculate condition (but retaining all good vintage components), the Tandberg has never seen any maintenance having all its original components (including a tube set of Telefunkens that are all testing as new).

This plugin can be used to warm up your sounds, to simulate tape multi-tracking and/or to dirty up your sounds, it depends on the way it is used. The original template simulates the Revox and, by switching to Circuitry 2, you get the original Tandberg sound. Then you have all options open to change the sound: input/output levels, a very rare 15 ips feature was added (not present in the original Tandberg recorder), altering the tube saturation, changing the noise bias and level,…

It´s Lo-Fi if you want: you can change the frequency response to the vinyl era by abusing the "Vintage" knob. Have fun with it!
Diabolique is a free download for Windows (32-bit VST).
More information: Ourafilmes