Time+Space has announced the release of 5 new rig libraries for the TH-U guitar amp simulator by Overloud, with intro discount of up to 40% off regular for a limited time.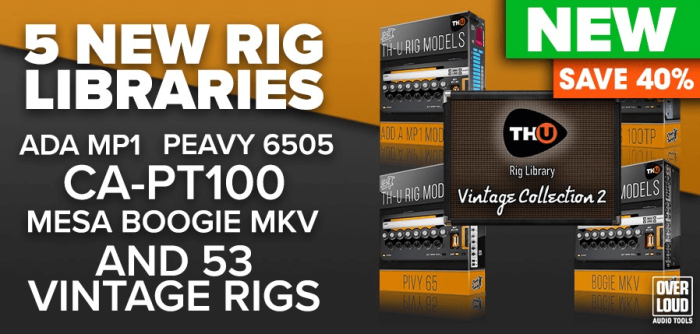 Overloud have produced and released 5 new exciting rig libraries for TH-U with up to 40% off introductory discount and up to 40% off all TH-U rig libraries in the series until the end of the month there's never been a better time to expand your TH-U!

TH-U Full Guitar Amp Simulator Overloud's multi award winning flagship Guitar Amp Simulation software. With a massive 239 models, TH-U is the world's largest collection in a single package featuring no less than 1000 presets covering all musical styles.
The new libraries are:
Overloud Vintage Collection 2: A collection of 53 rigs created out of the 8 best vintage guitar amplifiers and 19 speaker cabinets.
Overloud Choptones Bogie MKV: Recreate the sound of an authentic Mesa Boogie Mark V loaded with 6L6 and EL34 tubes.
Overloud Choptones Add A MP1: Recreate the sound of an authentic ADA MP1 Classic mixed tube/solid-state preamplifier.
Overloud Choptones Pivy 65: Recreate the sound of a Peavey 6505 guitar amplifier.
Overloud Choptones Suuc Cus 100TP: Recreate the sound of a Suhr/Custom Audio Amplifiers PT-100 Pete Thorn Signature head.
Prices start from just £16.86 GBP (incl. VAT). The intro offer expires October 28th, 2019.
More information: Time+Space