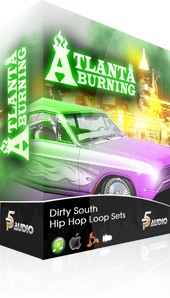 P5Audio has released Atlanta Burning, a new collection of dirty south loop sets.
No doubt, the hottest Hip Hop is coming out of the ATL these days, and P5audio is adding more fuel to the fire with these 15 bangin' royalty free loop sets with Atlanta Burning Dirty South Loop Sets!. Inspired by southern greats such as Waka Flocka Flame, Lex Luger, Gucci Mane, Young Jeezy, Drummer Boy and more!
Atlanta Burning features
15 royalty free construction loop sets with over 180 loops total.
All instruments are seperated and multi-tracked, so you have total mixing and matching freedom among all the loops.
includes: custom built hard hitting drums, electric guitars, basses, booms, brass, synths, keyboards, vox chants, fx and more.
Features all the modern Dirty South style trappin's like Dirty South drum rolls, synth leads, rockin' guitar, fat brass stabs, killer arpeggios and more.
All of these royalty free loops are formatted for REX2, Apple Loop and Acid Loops, WAV 16 bit.
Atlanta Burning is available as a download for $34.99 USD.
P5Audio has also launched a Gospel Keys Flash Beat Contest, a 4 day beat competition.
The Challenge: Using the FREE sounds provided below, PLUS any sounds of your choice, create up to two bangin' Gospel Keyboard driven Hip Hop, RnB, or Pop tracks using the FREE Gospel Keyboard Loops provided below as the featured element in the track. We want to use some of the top tracks as our product demo, and therefore, the track has to showcase the gospel loops!
The contest will have two prize winners, one for the best Gospel Piano based Beat, and one for the Gospel Organ based beat.
Both winners will recieve:
$100 in FREE P5Audio Sounds.
A Blog Post about the Winning Music Producer on the P5Audio Blog.
Your track featured as a product demo with your name in the product write up and the voice over.
Followers on Twitter and Facebook will get a bonus prize.
More information: P5Audio