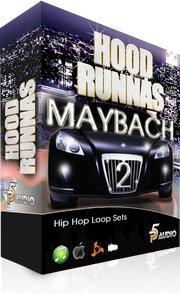 P5Audio has released Hood Runnas: MayBach Edition vol. 2, a collection of Hip Hop Loops Sets.
Back by popular demand, P5audio is bringing you the follow up to the best selling Hood Runnas Maybach Edition. Back with even more glitz and glamour of that big band Maybach sound, volume two once again draws inspiration from Maybach collaborating artists such as T Pain, Pusha T, Rick Ross, Meek Mill, DJ Khaled, Wale, Lil Wayne, Drake and more. Using both live and sampled instruments, these music loops will catapult your production to a whole new musical level!
Hood Runnas: MayBach Edition vol. 2
20 music loop sets organized into 10 song sets, featuring 10 Ten "A" section hook ideas and 10 Ten "B" section verse ideas. Mix and match these loops however you like. Use each music loopset by itself, or pair up an A and B together for a verse, hook, bridge ready to go.
365 individual wav loops total! (1460 individual loops including all formats).
All tempos and key signatures are provided.
We brought in even more live musicians for this product including guitar, bass, tenor saxaphone all recorded through NEVE and Avalon preamps and run through Apogee conversters and processed with SSL technology to create an amazing full bodied sound.
All parts are separated including kick, snare, hat, Live Sax, bass, synths, big band horns, big band strings, guitars, keys, fx and more.
All of these music loops are ROYALTY FREE.
Nearly 4 GB of content.
Hood Runnas: MayBach Edition vol. 2 is currently available to purchase for $42.49 USD as part of the 7 Year Anniversary sale (15% off).
More information: P5Audio / Hood Runnas: MayBach Edition vol. 2