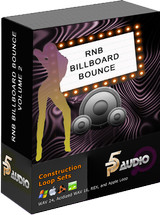 P5Audio has announced the release of RnB Billboard Bounce Vol.2, a collection of RnB music loops.
RnB Billboard Bounce Vol. 2 Loop Sets…It's time for the sequel! By Popular demand P5audio is bringing you more of those chart topping hit tracks with volume 2 of our hit series RnB Billboard Bounce! We are once again experimenting with a new format. 21 Loop Sets divided into groups of three. Verse/Hook/Bridge.
RnB Billboard Bounce Vol.2 features
21 construction loopsets in groups of three. When they are grouped together they make 7 song sets, complete with verses, hooks and bridges, including a total of 235 individual Loops.
Inspired by hit makers such as Jason Derulo, Iyaz, Trey Songz, Timbaland, Justin Bieber, Usher, Rihanna, Justin Timberlake, and Kanye West.
All parts are seperated including Bass, Rapid Synth, Guitar, Keys, FX, Kick, Snare, Hat, and percussion.
Each Loop Set can be used to create a HOT Beat… but there is more! For each verse loop there is a matching "hook" loop and a matching "bridge" loop. If you put them all in the same song, you have an Instant Hit with a Verse, Hook and a Bridge set.
Use these Loop Sets as a set, or use them on their own. Mix and match however you like.
12 of these loopsets contain live grand piano, recoreded through Neve® and Avalon® pre-amps, using class A Apogee® analog to digital converts.
Tempos and Key Signatures Included.
All loops have been processed using SSL® processing technology.
All loops are royalty free.
RnB Billboard Bounce Vol.2 is available to purchase as a download for $44.99 USD.
More information: P5Audio / RnB Billboard Bounce Vol.2