Tau Bassline 2
This page contains patches and sound banks for Tau Bassline 2 by Muon Software.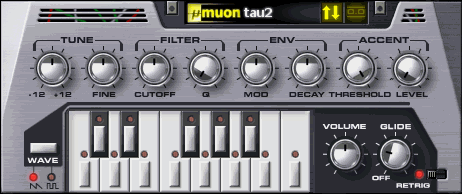 Tau Bassline MkII is a monophonic bass line synthesiser with a single digitally modelled analogue oscillator, filter and decay envelope. Despite the basic architecture a wide range of synthetic bass tones can be created and tweaked in real-time, ideal for the acid and techno purist.
Download patches/sound banks
You can find more patches listed by sound designer and by synth/plugin, or check the latest additions.