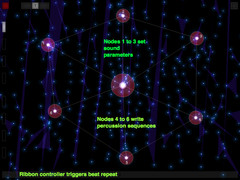 Peter Dines has released ParamDrum 3 Konkreet Edition, a Reaktor drum machine for Konkreet Performer.
This time the big deal is Konkreet Performer mappings. Performer is an iPad app that gives you tactile control over anything that can receive OSC, such as Reaktor. Free utiities also let you translate it to MIDI for software and hardware that can't receive OSC. How good is Konkreet Performer? It's the reason I went out and bought an iPad in the first place.
ParamDrum 3 (including KP Edition) for Reaktor is available to purchase for $15 USD. The ParamDrum 3 Konkreet Performer Edition is free for owners of previous versions of ParamDrum.
For a limited time ParamDrum is available in a bundle with the Sampler Pack (Frame 2, Loupe and Mirage) for $22.50 USD (regular $45 USD).
More information: Peter Dines