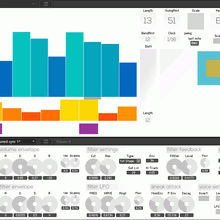 Peter Dines has announced version 1.03 of the Chroma and Gris Gris sequencer and synthesizer for Native Instruments Reaktor, which adds a few features and fixes a couple of minor bugs.
The Gris-Gris synth now has two additional filter types, bandpass and high pass, and a ring mod control for metallic and bell tones. It comes with a much expanded and refined Lemur template that allows full editing of sequences.

To celebrate the release of this new version, the Chroma and Gris-Gris sequenced synth ensemble is temporarily reduced in price from $24.99 to $19.99

Chroma can be purchased and downloaded right now. Remember, Chroma is a Reaktor ensemble and requires a full installation of Reaktor 5.8.0, not just Reaktor player.

I've also added further support for Lemur. The new template has three pages – the original quickpage, plus a sequence edit page and a full synth edit page that offers control of every parameter in the Gris-Gris synth. The quickpage now has controls for sequence speed, key and scale type.
More information: Peter Dines / Chroma