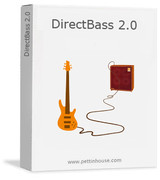 Pettinhouse has released DirectBass 2.0, a direct recorded bass sample library for NI Kontakt 2-3 with a remarkable bass sound for any musical style.
It reproduces in exacting detail the sounds of the YAMAHA™ TRB 5 strings bass guitar. Extremely playable and very easy to use, DirectBass 2.0 has everything you need for creating a bass track.
DirectBass 2.0 features
Direct recorded for amp simulators, 24bit 96Khz.
5 layers for each key and round robin played with index and middle finger.
Release samples for each note, slides and stops on each string.
Low Notes B-C-D.
Full sustain and natural decay (no loops).
Midifile library including 80 professional riffs.
6 Key switches: SlideUP Fast/Slow, HammerOn Fast/Slow, Trills, Harmonics.
70 amp presets ready to use for Ampeg SVX, Amplitube 2 and GuitarRig 3.
7 experimental patches for RnB, Electronic music.
7 video manuals.
Includes DirectBass lite, allows you to create a bass track without any stress for your CPU and RAM.
DirectBass 2.0 is available for purchase for $99 USD.
Visit Pettinhouse for more information and audio demos.