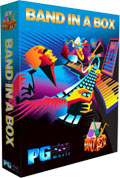 PG Music has released Band-in-a-Box 2006 for Windows, with over fifty new features, including VST support.
Some of the new features in Band-in-a-Box 2006 for Windows include: "Conductor"- Live Looping / Playback control. While your song is playing you can now easily control the playback (looping or jumping to another section) with a single key on your QWERTY or MIDI keyboard. The TC-Helicon Audio Harmonies have been enhanced with "Unison Harmonies" and a Choir Feature.
ASIO support has been added allowing you to use a software synthesizer with almost no latency. VST support added and Styles can now have different instruments for each substyle.
Notation enhancements include support for symbols like section letters, slurs, legato, accents, staccatos, crescendos and more. The Ear Training feature has been enhanced with "Pitch Invasion" and "Music Replay" games. The Melody and Soloist parts are now 16-channel multitracks so you can record up to 32 MIDI tracks and create fuller arrangements.
Check the PG Music site for more information.