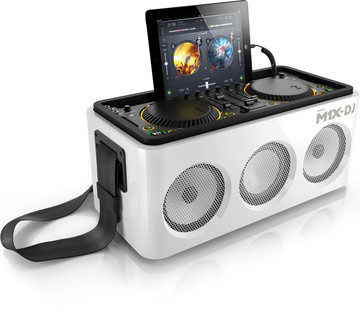 Philips and Armin van Buuren have launched the M1X-DJ System, a combined DJ controller and sound system.
Combining a sleek design aesthetic and easy-to-use interface with innovative technology, the M1X-DJ allows anyone who wants to mix, play and share their music in one portable device. It combines a DJ controller and sound system that comes integrated with an Apple Lightning connector and Bluetooth® connectivity and works seamlessly with the djay 2 app from Algoriddim.

"Fans often ask me what equipment they should buy when they want to start mixing themselves," said Armin. "A lot of kit can be expensive, so with the M1X I wanted to create something that's accessible for everybody. The other great thing about the M1X is that you can play it wherever you want, whether that's the beach, the park or your street: it's the ghettoblaster reinvented for today."

"Music drives us, especially in its ability to let people express themselves through their own unique sound," said Ruggero Nardone, senior manager consumer marketing, audio at Philips Lifestyle Entertainment. "The M1X-DJ makes mixing, playing and sharing tracks simple. Everyone loves a great party and this product will deliver a great music experience, whatever the setting."

"We are thrilled about the release of the M1X-DJ," said Karim Morsy, CEO of Algoriddim. "djay users of any skill level will be excited to control their music in a whole new way with this unique new DJ system."

The Philips M1X-DJ System includes speakers that output an impressive 80-Watts of sound. Optimized for iPad® and compatible with the iPhone 5®, the system includes an Apple 'Lightning' connector and Bluetooth wireless connectivity. Using the djay 2 app, you can switch between tracks on your playlist or mix tracks together for a sound that is truly your own. The integrated DJ controller allows you to mix and scratch your music using two professional grade platters, cross faders and controls – just like a professional DJ would use.

The system is simple to use and provides an authentic DJ experience for beginners to professionals, depending on how you choose to use the features. With multiple inputs and outputs, aspiring artists can link up multiple M1X-DJs or bigger stereo systems for a more club-like sound. Bluetooth connectivity allows you to share your favorite music from Bluetooth-enabled devices. When the party moves outside or to a remote location that may not have accessible power, the M1X-DJ will play for five hours with D cell batteries.

To help make the most of your mix, the Philips M1X-DJ works seamlessly with Algoriddim's djay 2, an intuitive DJ app that makes it easy to get started fading and mixing tracks. Downloaded by millions of users around the world, Algoriddim's djay has won the prestigious Apple Design Award and has charted as the #1 top paid app on the iTunes App Store. The app makes it easy to get started for beginners and has advanced features for those with more experience.
The Philips M1X-DJ Sound System will be available in November 2013 with a recommended retail price of 399.95 EUR.
More information: Philips