Plankton Electronics has announced the launch of a Kickstarter project for its SPICE modular distortion desktop unit.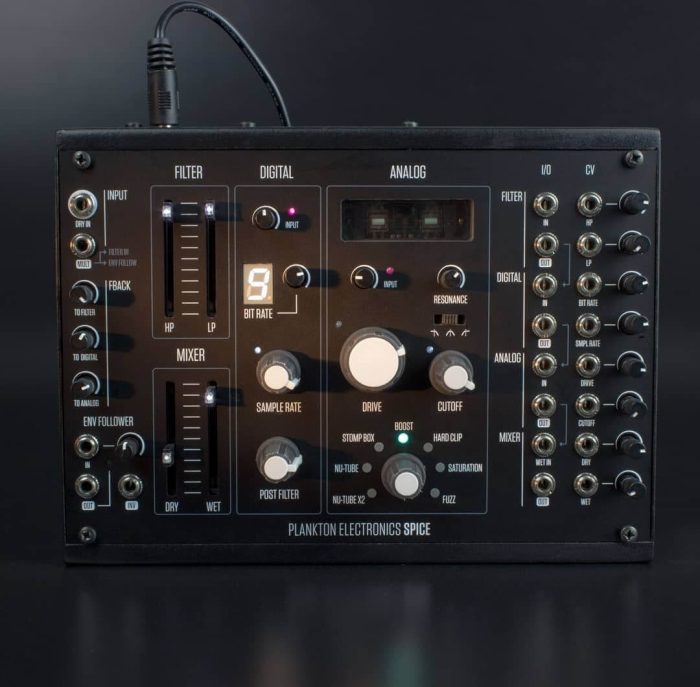 SPICE is a saturator unit capable of a huge variety of sounds of colors. From subtle tube warmness to extreme fuzz distortion.
SPICE features
Rackable (38HP Eurorack) modular desktop unit.
8 CV inputs with led level indicators.
6 main functions: Prefilter / Digital / Analog / Mixer / Envelope Follower / Feedback

Prefilter: High Pass and Low Pass filters to shape the sound before being processed. Both controllable via fader + CV input.
Digital: 12 bit Bit Crusher + Sample Rate reducer. Both controllable via potentiometer and CV inputs. It also offer an analog input control with led clip indicator and a low pass filter to smooth the output signal. All the code will be Open Source
Analog: 7 analog distortion circuits selectable with a rotary encoder + a sweet resonant state variable filter. Drive and Cutoff parameters are controllable via potentiometer and CV inputs. 2 of the circuits use the new Korg NU-TUBE.
Mixer: Dry and Wet controls to mixed the processed signal with the clean one of the input. Both controllable via fader + CV input.
Envelope Follower: A dedicated envelope follower with gain control and normal and inverted outputs to convert an incoming signal to an envelope. With its output you can control any of the CV parameters and shape the processed sound in many creative ways.
Feedback: a triple feedback section that sends the Wet input to the Prefilter, Digital and Analog sections. It's capable from a subtle resonance to a collapsed hardcore self generating tone.

Semi-modular architecture with prepatched sections that can be restructured using patch cables. Each section (minus the feedback) can be used as an independent function from the rest.
Plankton Electronics has also designed 3 Eurorack modules inspired by SPICE.
NUTONE is a dual channel VCA and distortion based on the Korg Nutube vacuum fluorescent display. 2 inputs, 2 outputs, 2CV controls for gain, 1 feedback controls at each channel and send potentiometers from Ch1 to Ch2 and viceversa.
SPICEVCF is a module based on the filter of the ANALOG section of SPICE. 1 input, 3 outputs (LP, BP & HP), CV input for cutoff and resonance, V/OCT input and XMOD control to modulate the filter with its own output.
ENVF is an envelope follower base on the same function of SPICE. 1 input, 2 outputs, Treshold control, Gain control and a 3 state slope switch.
The Kickstarter project aims to raise 42,000 EUR by April 5th. Various pledge levels are available for PCBs and panels, DIY kits, and pre-assmebled units.
More information: Plankton Electronics