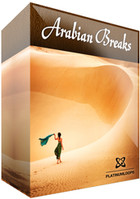 Platinum Loops has released Arabian Breaks v1, a collection of loops and samples from the middle east.
Bring the magic of the Middle East to your desktop with these enchanting and mysterious arabian breaks. This spectacular loop pack contains fully mixed cuts of music that feature traditional instruments, melodies and rhythms from all over the middle east. We've got entire orchestral arrangements, darbuka drum solo's, oud, zither, quabub, buzuk, tabla, dombak, kamanja (arab fiddle), vocal acrabatics and lots more. These authentic breaks include sounds from Syria, Baghdad, Morocco, Lebanon and other middle eastern locations that boast some of the most spellbinding music in the world. With 152 loops and 18 one shot samples Arabian Breaks V1 offers you a wealth of inspiration whether your a hip hop producer or a singer songwriter.

We worked hard to secure licensing deals with one of the worlds leading publishers of Ethnic music so you can expect to see more impressive titles in this category. Let Arabian Breaks V1 add an exciting new dimension to your recordings with exotic sounds from ancient cultures.
Arabian Breaks v1 features
367 MB, 152 Loops and 18 One Shots.
Tempos range from 82 to 158 bpm.
Played Live.
All samples are mixed and mastered edits with no single instruments. Multi track Mix elements are not available.
Arabian Breaks v1 is available as a download for $49.95 USD.
More information: Platinum Loops