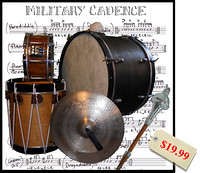 Platinum Samples has released Military Cadence, a collection of MIDI cadence grooves played by John Emrich.
Military Cadence is a collection of grooves in 2/4, 4/4, and 6/8 time signatures. This collection also includes common Rolls and Rudiments. Rudiments are the foundation of the drumming vocabulary. Every serious drum instructor has received a set of hand written rudiments from their teachers and continue to pass them along to new students. We have included these sheets as well.
Military Cadence features
Played live and recorded by John Emrich, a retired Chief Musician with the US Navy Band in Washington, DC.
Includes 56 cadence grooves, 39 snare rolls and 22 additional rudiments.
Played in 2/4, 4/4 and 6/8.
Includes 285 MIDI files of unquantized grooves.
Formatted for BFD2®, EZdrummer®, Superior Drummer®, Addictive Drums®, Cakewalk® Session Drummer™ & General MIDI Standard MIDI Files (all included).
Military Cadence is available to purchase for $19.99 USD.
More information: Platinum Samples / Military Cadence