Plugin Alliance has announced the upcoming Diezel VH4 plugin, an exacting emulation of the original Diezel VH4 tube guitar amp plugin fully approved by Peter Diezel and Peter Stapfer.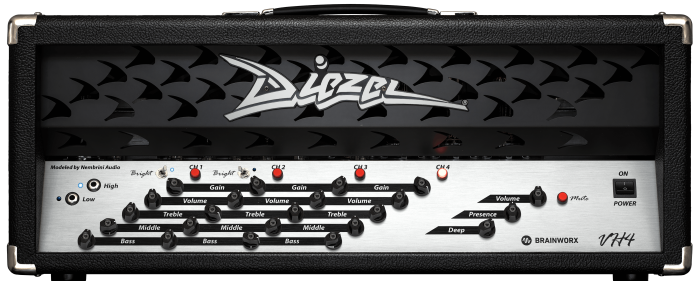 In 1994, unimpressed with and tired of the tones available in other amps, Peter Diezel set out to create his perfect sound by building his own amp, the Diezel VH4. Once the word got out, the VH4 quickly established itself as a serious guitarist's must have amp, making its way to the rigs of such legends as Metallica, Tool, Journey and many others. At the time the VH4 was released, it was a truly revolutionary design that offered a ton of flexibility and user-friendly features. To this day, the Diezel VH4 lives in a league of its own.

At the heart of the VH4 is a 100 watt output section coupled with four distinct preamp channels that provide everything from ultra clean tones to massively distorted madness. The four channels (Clean; Crunch; Mega and Lead) are packed with unparalleled tonality, definition and superb clarity. At lower gain settings, you can easily play with the now-classic Diezel sparkly sheen. But kick the gain up a notch and you'll take the Clean channel into the more aggressive Townshend/Hiwatt zone.
Diezel VH4 features
Sonically flexible amp head with iconic high-gain tones.
4 completely independent channels cover a massive range of tones.
Global Presence and Depth controls.
100 watts of KT77 tube tone.
120 Brainworx' Recording Chains (advanced impulse responses) included.
FX Rack include host-syncable lo-fi delay, noise gate, tight and smooth filters, power soak, pre and power amp bypass.
Also coming soon is the ProAudioDSP DSM V3 audio plugin, which allows you to capture the spectral and dynamic characteristics of any audio material, and apply it to any other sound.
Developed by Paul Frindle, the developer of some of the most respected and beloved products in the recording history, including the SSL E / G series consoles, and the mighty SONY OXFORD OXF-3 digital boards.

The Dynamic Spectrum Mapper (DSM) plugin is intended to provide multi-dimensional control over both, the spectral response and dynamic characteristics of your audio.

The use of novel processing and program capture algorithms provides the ability to achieve exemplary results in common tasks such as program compression and enhancement, vocal expression and instrument characterization very quickly.

The ability to capture, modify and re-apply the spectral characteristics of your track is a powerful creative tool in all stages of the production cycle, from recording and mixing to mastering stages.

DSM V3 has many use cases, from matching tracks in mastering to evening out difficult audio tracks in a mix. It even serves as an amazing De-Esser!
ProAudioDSP DSM V3 features
Capture the signature sound from one track, and dynamically impress it upon a different track. The Dynamic Spectrum Mapping of the DSM V3 lends a more believable result than the conventional EQ matching method.
Balance out individual tracks by capturing a perfect section of the file and applying it to the whole track.
DSM V3 is not only offering compression but also expansion of your audio material.
Improved workflow adding intuitive control for adjusting frequency curves.
More than 3 times as many frequency bands as conventional multiband compressors, with particularly fine resolution in the mids and highs, where the lion's share of character and vocal timbre are formed.
Proprietary Capture System uses both spectral and dynamic information to obtain a Threshold Curve. Thus, program compression, expansion and de-essing is performed with reference to a credible, authentic frequency response.
Super-smooth, resilient compression and expansion. Large dynamic events and spectrally complex percussion are compressed with ease. Out-of-character tonal changes are avoided, even under heavy compression.
Transients are kept intact, never smoothed-over. The importance of this cannot be overstated, and is where many "spectral" audio processors end up ruining your mixes. The DSM V3 always keeps the punch and detail intact.
Mastering Limiter is 100% transparent below -1dBFS.This means the Limiter only processes the peaks, leaving everything else untouched. Again, all transient detail is preserved, even above digital maximum.
Parallel Compression is easily achieved with the Dry/Wet mix control.
Allows import of DSM V2 capture curves.
Developed as a completely new plugin, basing on the same processing as V2.
New: All new Expand mode.
New: Fully active spectrum sidechain input with source selection.
New: Active Drag handles on Spectrum graph.
New: Limiter and DSM dynamic processing can now be used independently.
New: Improved signal flow for greater convenience.
New: More convenient setup and curve store and restore management.
New: Scalable GUI from 50% to 150%.
Diezel VH4 and ProAudioDSP DSM V3 will be available on July 15th, 2019. You can already download free 14-day trial versions today.
More information: Plugin Alliance