Plugin Alliance has launched the Lindell 354E, a multiband compressor effect plugin modeled after the Neve 2254E.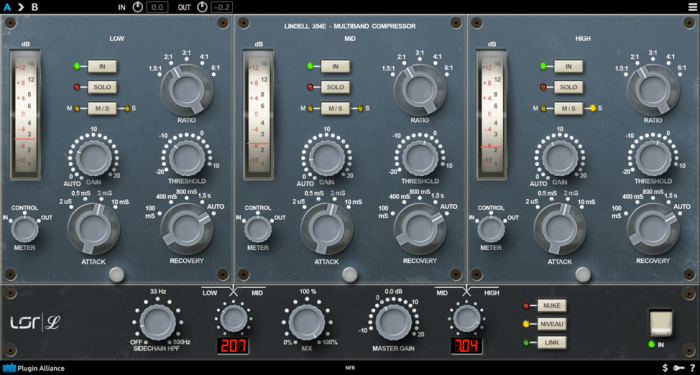 The Lindell 354E is a multiband model of the most famous vintage diode bridge compressor, the Neve 2254E, precisely replicating its distinctive behavior and rich sonic character in each of its three bands.

But in practical use, the 354E really is two compressors in one: Turn on its Nuke mode to radically shape individual tracks, and turn it off for lighter, more nuanced compression when mastering or for surgical mixing.

Both modes yield the same lush coloration and smooth presence that made the 2254E one of the most revered and highly sought after compressors in the world.
Lindell 354E features
Faithfully models the most famous vintage diode bridge compressor, the Neve 2254E, in each of its three independent frequency bands.
Adjustable crossover frequencies between bands allow you to home in on where compression is needed most.
Ratios range, in five steps, from 1.5:1 for mastering and master-bus compression to as high as 6:1 for shaping individual tracks.
Switchable Nuke mode over-compresses tracks to dramatic effect.
Mid/Side mode focuses compression on mid or side channel—or in stereo—for surgical precision.
Highpass filter in sidechain lends greater punch to compressed drums, bass guitar and other bass-heavy instruments.
Switchable Niveau filter tilts sidechain's frequency response to preserve bass energy—great for creating the killer API "thrust" compression effect.
Mix control provides instant parallel processing, especially useful for blending radically compressed signal with pristine dry input when compressing drums, adding density to rock guitars and more.
Bands can be linked and soloed.
Adjustable, wide-ranging attack and release controls include blazing-fast 2sec attack time for radical compression and Auto release for artifact-free processing.
Optional auto-makeup gain for each band.
Three-way meter displays I/O and gain-reduction levels in turn.
Internal operating levels can be calibrated in nine 1dB steps for precise mastering applications.
Resizable user interface and up to 16x oversampling for digital precision in any environment.
Lindell 354E is available for Windows and Mac (VST/AU/AAX), at an introductory price of $129 USD until April 30th, 2017 (regular $199 USD).
More information: Plugin Alliance / Lindell Audio 354E