Plugin Boutique has launched the ACE+ Bundle, a value pack comprising the ACE virtual synthesizer and three sound packs with a total of 192 presets at a discounted price.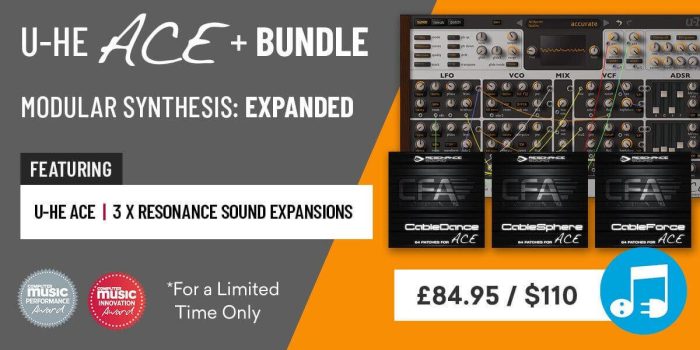 u-he's ACE is a semi-modular powerhouse that delivers a classic analogue sound through its excellent core modules and incredible routing capabilities.
Featuring a host of oscillators, LFOs, filters, envelopes and more, ACE's versatility means any one of these modules' outputs can be routed to any input for endless sound design experimentation.
ACE features
Semi-modular architecture, with default routing like ARP 2600.
25 signal sources, 30+ signal targets.
Up to 8 times unison with +/-2 octave detune range each.
Exceptional filters, can self-oscillate.
LFOs can be used as VCOs and vice versa.
Sync, FM, cross modulation.
Use multiples for inversion, amp / ring modulation etc..
Custom LFO waveform "tap map".
Microtuning (Scala .tun standard).
100% free of Supersaws!
Now exclusively at Plugin Boutique, you can get ACE with three Resonance Sound preset expansions for even more sound design possibilities.
CFA Sound's award-winning preset design skills give you full control to expand ACE with powerful wavetables, beautiful plucks and analogue drums, plus many more.
The u-he ACE+ Bundle is exclusive to Plugin Boutique and only available for a limited time only. It costs £84.95 GBP / $110 USD.
More information: Plugin Boutique